Without Uploading online , share your files securely and directly from your device using Laptop or Mobile using or ToffeeShare App ( )
https://toffeeshare.com/
Download Link:https://toffeeshare.com/download
About ToffeeShare :
No file size limit
Peer to peer
End to end encrypted
Lighting fast
Peer to Peer (P2P) file sharing service focused on privacy and security like store nothing online so simply close your browser to stop sending.
Nothing stored online :-
When the transfer is complete your files are no longer on the internet, so there's no risk of anyone hacking a server to get to your files: it's simply not there.
Privacy Policy :-
The website is in accordance with the GDPR (General Data Protection Regulation), as your data is never stored anywhere.
What is peer to peer ?
Peer to peer communication means the communication flows directly between two devices rather than via an intermediate server. This means your data will not be stored somewhere else before it reaches its destination.
This also allows for a much higher transfer speed. Simply because you completely skip the whole upload to a server.
Whtat is end to end encryption ?
With basic encryption your data is made incomprehensible to make sure nobody can listen in when you're connected with a server. This is safe in most cases, but if for whatever reason a server is compromised or or hacked, the privacy of your data is in Very Risk. End to end encryption solves this problem by leaving out the man in the middle. Instead of on the server, encryption will be done directly between the sender and receiver.
ToffeeShare achieves this via WebRTC, a relatively new communication API used in modern browsers. Under the hood of WebRTC is a protocol called STUN.
WebRTC which currently is DTLS v1.2, an industry standard
You are always sure to have the latest version running (as long as you keep your browser up-to-date)
WebRTC allows you to set up peer-to-peer connection to other web browsers quickly and easily because there is no such Third party Server Included.
Supported Browser :-
So Lets start …
Go to https://toffeeshare.com/
And select the file that you want to Send
Select one or multiples file base on your requirement
Now its has no processing time so you able to see the link directly so peers use this link to downlosd
For Testing or like to download that File I download the ToffeeShare App in my Phone
Click Receive and then >> Click or touch the QR Icon to scan the QR code which basically generated when sender selected any files.
OR Else Simply use the URL link which generated when you select some file to sends
Select Download buttom to download that two files :-
Start Processing ….
Now Make Mobile Phone as a Sender then Open the ToffeeShare App
Select the Send option and then Click the '+' icon to select the file that you need to share.
Click 'Share' to genarate the link and do the same step
Now If the system (PC) is near by then click 'Send to PC'
Go to your PC and visit https://toffeeshare.com/mobile
Now SCAN this generated QR code with your smartphone
Now QR SCAN is completed so now simply click 'Download' to start download the file.
Processing is finished ! and we able to see that file also Downloaded.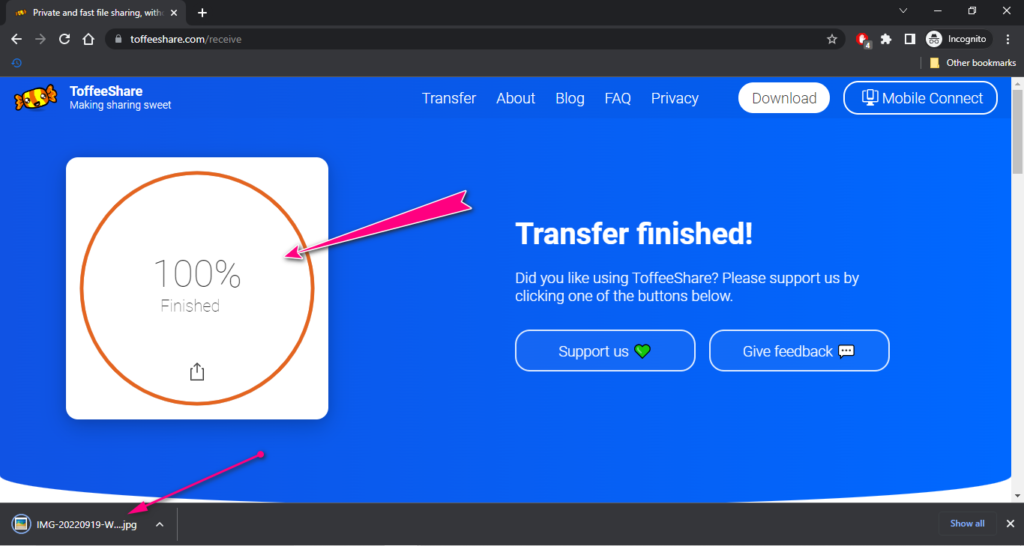 NOTE : 1. INTERNET is required on both End to complete the whole sharing process.
2. Once the link and QR code generated then you make sure that browsing TAB should not be closed.